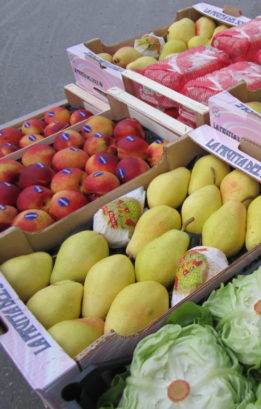 The main business activity of the company Voće – tranzit is wholesale of fruits and vegetables. Besides, the company also deals with wholesale of beverages and other consumer goods. Our wholesale facilities are located on couple of locations in Gradačac and Brčko. We also do the delivery of our goods to the specific location.
Our wholesale objects in Gradačac are located in Donje Ledenice bb, where wholesale of fruits, vegetables, beverages and other consumer goods is located; and in Husein – kapetana Gradaščevića bb street where wholesale of beverages is located.
Our sales activities we also do at Arizona Market – Brčko District, where wholesale of fruits and vegetables is located. In order to meet the needs of our clients, we have made the adjustment of our working hours so that at the specific location you can make your purchases even at weekends.
voce2 Thanks to our own transportation capacities, who regularly deliver fresh amounts of goods, we are always able to supply our clients with fresh fruits and vegetables. Throughout the year our range of products are all kinds of seasonal fruits and vegetables. Besides, depending on the orders of our customers, we also supply exotic fruits and vegetables off season. We buy our goods directly from producers from Bosnia and Herzegovina, and from our suppliers from Croatia, Italy, Spain, Greece, Macedonia, Turkey and South America, with who we have successful long standing cooperation. Our suppliers network has a tendency of constant growth, in order to supply our customers with goods of top quality for acceptable price.
The company also has their own delivery vehicles like small van or caddy and two smaller refrigerator trucks. Besides the delivery of their goods the company also offers a refrigerator trucks for a rent. With this service we are able to provide our customers with a cold drinks at any location, which is especially convenient when organizing a large events on a hot summer day
The company has a large size of storage area, located at three different locations in Gradačac and Brčko District. The whole storage area is equipped with modern cooling chambers who are able to store more than 400 tones of fruits and vegetables. Besides the regular cooling chambers, the company owns banana ripening chambers with storage capacity of around 100 tones.